---
Andreas Schamanek
Archive of announcements of changes to my website, pointers to articles and more

2008-12-21
This years' Weih Nacht S Karte
"The biggest human sex organ is the brain."
2008-12-20
99999 played tracks on last.fm
2008-12-13
The CaRs-L mailing list was closed
after being inactive for some years, anyway.
2008-12-09
The new "Ratty blog" has been started
It follows the old one which was running on pownce.com.
2008-12-06
My "Ratty blog" [http://pownce.com/rattus_rattus/] at pownce.com is being shut down
2008-11-26
DON'T PANIC! birthday parties: no thanks card 2008
2008-11-24
Some brute force stats
2008-10-31
Wordle "Mit Dank an Ursula" (needs Java)
Just another Wordle for those who know it, all others might want to have a lOOk and try one themselves.
2008-10-30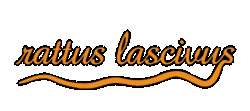 lasciviousTshirts goes on-line
2008-10-12
Essential e-mail acronyms
2008-09-27
Selective sendmail postmaster
Discarding Sendmail's double bounce "postmaster notify" messages caused by bouncing "DSN: return receipt"s and locally unknown users
2008-08-26
ErfurtWiki (ewiki) to DokuWiki Converter
2008-08-24
Taxonomies of the unknown
A compilation with references of some classifications, systematics and other orders of what is not known.
2008-07-31
Slatin Summer is ready to go
2008-07-28
Grep with large pattern files
2008-07-20
Expensive grep: Comparing run times of grep -f
2008-07-14
Published the Bash script mail_lookuplist
A Bash script to "validate" an e-mail address and to look it up in a list
2008-06-29
Published the Bash script postpone
A Bash script to postpone some action for a given time
2008-06-14
My flUxUs pages have been moved to my private home page
I have also updated them here and there. Old links still work but are redirected to the new location.
2008-05-24
Slatin Summer sketchy shoe designs
2008-05-22
Regexes to filter automated e-mail responses
2008-05-12
Linksys WUSB54G WPA on Ubuntu 8.04
2008-04-28
eMail highlighting for GeSHi (within DokuWiki)
2008-04-13
Colorize my logs (a simple bash+sed script)
2008-01-19
Nichts Neues: Der Überwachungsstaat
Update 2016: Link removed. The site was up until 2015 (provided by archive.org).
---