---
Andreas Schamanek
Archive of announcements of changes to my website, pointers to articles and more

2023-01-31
Historische Bahn-Reisezeiten Wien -> Salzbug
2023-01-25
Die mehr als doppelt so hohe Sterberate der Statistik Austria
2022-12-17
Ungeimpfte dürfen Weihnachten feiern
2022-07-24
sshpingpong: Script to measure RTT within an SSH session
2022-04-16
New homepage section about various stuff
including an overhauled list of Taxonomies of the unknown, and in German: Notizen zu CoViD-19 und Tierende Tiere
2022-04-07
A list of English and German books criticizing medicine and pharma
2022-01-31
Updated icmd.php to v0.13 (minor tweaks)
2021-12-23
CoViD-19: Chronologie der Schutz-Maßnahmen in Österreich
2021-12-18
Removed the FreeKEYB-L list archives
The list had been closed since 2009-12-28. The last posting is available by courtesy of archive.org.
2021-12-09
CoViD-19-Multiple-Choice-Test
2021-08-08
ad finitum features a new text
"I doubt my intelligence, and yet it does not increase."
2021-06-06
I removed my public bookmark collections, too much work for almost no gain
2021-03-31
I removed my old gallery for now
2020-12-12
Updated choose.php: ChooSE your search engine
Various tweaks, also added search engines Carrot2, Mojeek and Peekier, fixed Qwant search; fixed the opensearch description XML (also renamed choose-ffse.xml to opensearch.xml); see also the ChooSE extended list with short descriptions of each search engine
2020-11-04
SysAdmin'ish Blog: NEW keyboard, NOW fully wired!
2020-09-14
Ausgewaehlte Links zu CoViD-19
2021-06-06 hab ich alle meine oeffentlichen Bookmarksammlungen offline genommen, weil der Wartungsaufwand zu grosz war.
2019-11-11
Removed some cruft of and about old web pages that I ran like my page about my mailing lists, and archives of CaRs-L, cUltuRe-L, and MuS-L, plus old hotlists
2019-10-31
The site humanoekologie.at has been closed.
It's been archived thanks to archive.org.
2019-09-28
Neue Homepage für Mag.a Marion Herbert
Umsetzung einer minimalistischen, privaten Homepage mit CSS-only Lightbox, ohne JavaScript, ohne Cookies, ohne Webfonts und ohne Verarbeitung personenbezogener Daten
2019-07-23
Due to lack of interest human ecology will be canceled.
2019-07-18
SysAdmin'ish Blog: Self-signed certificates with subjectAltName
2019-06-22
Tierende Tiere
Was haben Fliegen, Robben und Schleichen gemeinsam? Und wie tieren andere Tiere? (Text von Irene Klein & Andreas Schamanek)
2019-05-26
ad finitum features a new text
"what makes us human is what we share."
2019-03-15
Updated choose.php: ChooSE your search engine
2019-02-13
SysAdmin'ish Blog: Self-signed certificates & Thunderbird again
The personal and the CA's certificate cannot be the same anymore.
2019-02-01
Workaround for ssh-agent + ssh-add -c in Ubuntu 18.04 + 18.10
2019-01-28
Updated netstat.php: switch to UTF-8, responsive CSS, various minor tweaks
Also, time & error diagnostics can now be shown in extra rows (e.g. with ?diags)
2019-01-17
Bug report: ssh-askpass(-gnome) fails for ssh-add -c
I am having a hard time believing that ssh-agent with ssh-add -c keeps failing for each and every release of Ubuntu that I tried, since years. Until Ubuntu 18.04, I was at least able to fix it myself, but this time I have no clue, yet.
2018-09-03
SysAdmin'ish Blog: Tools to help analyze freezes
2018-06-23
Updated my GPG/PGP key
The old key 0x94108325 (sub 0x47EBA341) has been revoked. The new key is 0xAF1A0EF8 (5C564614AF1A0EF8). Its fingerprint is 3155 517B E69E 8382 E223 3B4F 5C56 4614 AF1A 0EF8.
2018-06-18
SysAdmin'ish Blog: Keep smiling :-9
What does this smiley stand for?
2018-05-23
SysAdmin'ish Blog: Easy backups that ain't backups
When your backups are easy to access they ain't backups.
2018-05-18
SysAdmin'ish Blog: Andrew Gallagher on archeology
2018-04-01
Large parts of kiss_procmail_list.rc rewritten + extended
Some bugs fixed, some new ones (probably) buried. Made the old version of the script available as v1. The new version comes with a helper script to handle bounces in a better way.
2018-03-23
ad finitum features a new text
quoting lyrics of Ani DiFranco's song "Binary"
2018-03-21
Minor feature additions to kiss_procmail_list.rc
Added option to also add list of subscribers to messages that are of type multipart/mixed or multipart/related; plus, we now support "nomail" subscriptions
2017-10-13
Notes on Plain Text vs. HTML mail
2017-10-05
Removed wiki page Recommended Web Applications
2017-08-30
Will Firefox ever reload static pages?
2017-07-30
A Bash typing break reminder script
2017-07-04
How to let go (Loslassen, kurz & einfach illustriert)
2017-06-16
SysAdmin'ish Blog: Print to LPR with Debian's Firefox ESR 52
2017-04-18
Updated choose.php: ChooSE your search engine
2017-02-05
SysAdmin'ish Blog: Playing up (another rant)
2017-01-02
Neue Website: ad finitum/ad infinitum
2016-11-28
SysAdmin'ish Blog: OK nothing happened
2016-11-20
Neue Website: Links zu Humanökologie in Österreich
2016-10-13
Workaround for OpenDKIM canonicalization bug of folded headers
2016-09-21
SysAdmin'ish Blog: Add RFC5322.From headers to Sendmail logs
2016-09-18
Human readable .bash_history timestamps conversion
2016-06-16
Bug fix for attachment_filter.pl
2016-05-30
Added Markdown variants to the NoteIt bookmarklets
2016-05-03
Updated icmd.php to v0.11 (minor tweaks)
2016-02-19
Answered Why sendmail -t does not support empty group addresses
also known as list syntax; as often used in for instance To: undisclosed-recipients:;
2015-09-12
New version 0.12 of showmydisks.sh
Fixed detection of the rootfs device
2015-08-31
DokuWiki bug fixed: Unapproved comments showed up in feeds
2015-08-25
New RSS feed for my homepage
2015-07-24
Thunderbird bug report: Spaces lost when copying text
2015-07-20
Minor feature update of kiss_procmail_list.rc
Added option to add list of subscribers to each (text/plain) message
2015-06-07
Now hosting my private bookmarks myself
2015-05-17
Andreas' Life Simplification Reminders
A list of reminders to keep life simple, and fun
2015-04-14
Fixed a small bug in mycolorize-r.sh
2015-03-17
Updated choose.php: fixed an encoding bug
and updated the query URL for dogpile
2014-12-12
Procmail script for simple & small mailing lists
2014-11-18
SysAdmin'ish Blog: Suppress IP of authenticated sender in Sendmail
2014-10-19
SysAdmin'ish Blog: How smart is SmartScreen
2014-10-09
Updated autoreply_deferentially.rc to v2.11
2014-10-06
Updated autoreply_deferentially.rc to v2.10
2014-08-17
SysAdmin'ish Blog: Calculate Sysadmin day dates
2014-08-12
Removed archives of Bergtouren-L which was closed 8 years ago
2014-08-02
"Fixed" annoying bug of Ubuntu's update-managerUnicodeDecodeError: 'locale' codec can't decode byte 0xa4 in position 0: Invalid or incomplete multibyte or wide character
2014-06-20
contradicTshirts.spreadshirt.net free shipping on June 20 & 21 w/ code T-DAY2014
2014-05-24
Updated icmd.php to v0.09 (minor update)
2014-05-20
Heise Online: NSA manipuliert per Post versandte US-Netzwerktechnik
2014-04-18
icmd.php - a PHP script to run shell commands and format their output
This simple PHP script accepts user input, prepends a defined command and executes it on the system where it is installed. It can be used as an interface for non-interactive command-line programs where no web interface exists.
2014-03-03
Updated hdparmbench.sh: Now w/ hdparm --direct -t
2014-02-16
SysAdmin'ish Blog: OpenSSL self-signed certificates & Thunderbird
2014-02-03
SysAdmin'ish Blog: FAM-ily's Windows XP - R.I.P.
2014-01-19
in gedenken
2014-01-13
A hack to unclutter the new DokuWiki default template
2013-12-23
HDD benchmark shell script using hdparm -t
2013-10-21
New IT related bookmark collection
I've also finally deleted my bookmarks @delicious.com/xrat which was long overdue. *sigh*
2013-10-18
SysAdmin'ish Blog: Missing user in access.log with PHP-FPM
2013-09-20
Heise Online: NSA-Überwachungsskandal
Von NSA, GCHQ, BND, PRISM, Tempora, XKeyScore und dem Supergrundrecht -- was bisher geschah
(Artikel auf "heise online", erschienen 2013-09-19)
2013-07-24
tRate recipe (ratTen-tarte) - Minimal ratty tarte cake
2013-07-02
Spamassassin-users: Spam via whitelists
2013-06-18
Waking up a rat (short ASCII-art animation)
2013-06-13
SysAdmin'ish Blog: Short pasSWords and john
Surprisingly short passwords that John The Ripper doesn't find quickly
2013-06-05
SysAdmin'ish Blog: Dedicated sites for user feedback
How (not) to deal with user feedback
2013-04-21
SysAdmin'ish Blog: Munin 2.0: "Date::Manip::Backend" error
2013-04-20
SysAdmin'ish Blog: Yet Another or fix DokuWiki blogging?
2013-04-15
SysAdmin'ish Blog: What is 668.5?
2013-03-01
Updated the NoteIt bookmarklets
I removed the function window.getSelection() which apparently causes troubles in conjunction with DokuWiki.
2013-02-27
ISO 8601: xkcd Public Service Announcement
2013-01-29
The Brussels Privacy Declaration
2013-01-09
attachment_filter.pl & Deleting mail attachments
2012-11-27
Make love, not postcards!
2012-11-22
SysAdmin'ish Blog: Kill ethernet with USB, the easy way
2012-10-12
Fixed a bug in mycolorize-r.sh
2012-10-03
Some old pages have been removed
2012-10-02
Old pages about a Captcha hack for Menalto Gallery 1.5 removed
Archived copies of http://www.fam.tuwien.ac.at/~schamane/_/gallery1_captcha are available thanks to archive.org.
2012-10-02
Old pages about Software RAID on a c't-Debian-Servers removed
Archived copies of http://www.fam.tuwien.ac.at/~schamane/sysadmin/ctsrvraid/ are available thanks to archive.org.
2012-10-02
Old pages about Outlook Express 6 removed
archive.org offers various archived copies of the pages which were available at http://www.fam.tuwien.ac.at/~schamane/sysadmin/oe6/.
2012-09-21
Batch file to check version numbers of Windows programs
2012-09-18
SysAdmin'ish Blog: Windows 7 installation: No new devices could be found
2012-08-28
New version 0.10 of showmydisks.sh
Disks with no /sys/block/$MYDEV/size (e.g. empty SD/smart card drives) are skipped; some code cleanup and cosmetic changes.
2012-08-05
Updated netstat.php: Now more KISS, more IPv6, and flushing
See also the new list of changes.
2012-08-03
Old defunct literature database removed
Since the early 2000s, I had a small searchable literature database on-line, listing books and short comments mostly about system theory, modelling, and philosophy. The list hasn't been updated since many years, the code doesn't work well anymore, and focuses shifted, apparently. So, I figured is was time to say goodbye.
It was available at http://www.fam.tuwien.ac.at/~schamane/cgi-bin/literatur/, and archive.org captured a bit of it.
2012-07-30
New version 2.05 of autoreply_deferentially.rc
2012-07-30
SysAdmin'ish Blog: Courier IMAP & POP3 stats per user
2012-07-12
SysAdmin'ish Blog: Vertical panel with JS auto-hide & pin
2012-05-10
SysAdmin'ish Blog: Does Google fight spam?
2012-05-08
Public mUps code and related pages removed
mUps (short for mUlti-Purpose Text Database System) was a set of PHP files that allowed to set up a simple database system that worked on plain text files, offering basic CRUD functions. The code was publicly available and licensed under GPL. In May 2012, I removed the public pages, basically because I consider the code to be of minor use for anyone (except myself). Besides, it does have significant design flaws. Archived pages are available thanks to archive.org.
2012-04-01
Verfassungsklage gegen Vorratsdatenspeicherung
2012-03-02
ChooSE: removed Scroogle + Yauba, added DuckDuckGo + StartPage
Unfortunately, Scroogle (link to Wikipedia entry) had to give up. Yauba didn't stay up long. DuckDuckGo and the ixquick-powered StartPage look promising.
Added 2012-03-14: An interesting thread on StackExchange's IT security forum: Why would someone trust DuckDuckGo or other providers with a similar privacy policy?
2012-01-22
Updated choose.php: extended link now includes search text
and hence passes it on when clicked
2012-01-19
in gedenken
2012-01-04
A new version of netstat.php by Todd Johnson is now available on GitHub
2011-12-30
Created an example website
(Site removed 2019-02-26; archived thanks to archive.org)
2011-11-24
birthday parties: no thanks card 2011 on ...
2011-11-22
SysAdmin'ish Blog: Von Granatäpfeln und UserInnen
2011-11-16
Petition: Bedrohung des Forschungsstandortes Österreich
2011-10-23
SysAdmin'ish Blog: Shebang #!/bin/sed arguments
2011-10-20
SysAdmin'ish Blog: >/dev/null, but do it fast
2011-08-14
SysAdmin'ish Blog: Bash startup files in Debian Squeeze
2011-08-04
SysAdmin'ish Blog: Vertical, sliding panel with auto-hide v2 using jQuery
A simpler and more robust version, I hope.
2011-08-02
SysAdmin'ish Blog: Vertical, sliding panel with auto-hide using jQuery
2011-06-13
SysAdmin'ish Blog: A jumpy road with load after a Debian upgrade
2011-06-12
Wrote a Bash script to create phpmyadmin package files for ISPconfig 2
2011-06-06
Added SSL encrypted Google.com search to choose.php, + fixed 1 bug
2011-05-30
SysAdmin'ish Blog: Don't trust your UPS
2011-05-04
Add the Internet Archive Wayback Machine to your Firefox search engines (updated 2011-06-12)
The Internet Archive's Wayback Machine changed its search interface, so that the search plugins as provided for instance by mycroft.mozdev.org don't work anymore. The above is a quick and dirty hack to re-enable the searches. Note: When searching for a URL the http:// is required.
2011-04-25
New version 0.31 of mail_syntax script
2011-02-27
Bash script mail_syntax to check e-mail addresses
2011-02-20
New version 0.09 of showmydisks.sh
Added support for -L (only list devices), added ext4 + LUKS detection, and more info about fd partitions (parsing /proc/mdstat). Cleaned up the code a bit, too.
2011-02-03
Hotlinking to my MP3 and OGG rhythm samples is now blocked.
If you would like me to whitelist a certain domain feel free to contact me.
2011-01-19
in gedenken
2011-01-03
DUXWOKea: Discoveries of a User Experience Worker Et Alia
... a new weblog of my friend Michael Bechinie
2010-12-16
I canceled my SMS no. 0828270 0244209.
2010-11-26
birthday parties: no thanks card 2010 on aging
2010-11-24
It's week no. 47 :-)
2010-11-05
Updated choose.php: 2 new search options, 1 new feature, 1 bug fix
Added support for options with no access key.
Re-added Clusty as Yippy search, and added the new and interesting blekko.com search
Fixed 1 bug with handling # signs, and 1 issue with CSS max-width.
2010-10-02
Re-Alpine 2.02 has been released
2010-09-01
Prof. Karl Karrer, M.D., renowned Austrian cancer researcher, passed away 2010-08-27 at age 87
Professor Karrer was born in Kufstein, Austria, in 1923. All his life was dedicated to cancer research, especially small cell lung cancer (SCLC). He was among the founding members of the IASLC. In Vienna, Austria, he helped to establish the Institute of Cancer Research where he held leading positions until his retirement. As a chairman of the The Lung Cancer Study Group of the International Society of Chemotherapy (ISC-LCSG) he ran an international randomized study with the largest patient data pool at that time. In 1996, Professor Karrer was elected a member of The New York Academy of Sciences.
His main scientific objectives were the role of surgery for cure followed by chemotherapy, and the importance of pTNM staging of SCLC.
(Traueranzeige)
2010-08-16
The ratty blog is on hold for now
Due to time constraints and in order to move on to other projects I'll stop feeding this blog for now. So long, and thanks indeed to all artists, and followers.
2010-07-27
Again updated choose.php: Fixed a bug I introduced with last update
2010-07-19
Updated choose.php: Fixed handling of '+'; removed 'Clusty'
'Clusty' was acquired by Yippy who apparently changed the interface.
2010-07-12
No ErrorDocument reaches limit of 10 internal redirects
2010-07-09
Again updated choose.php: Fixed handling of '&'
I had removed Scroogle when it was defunct but re-added it since it reappeared.
2010-07-04
I removed my web pages on mountaineering, climbing, etc.
They were largely outdated, and most of it is easily found elsewhere.
2010-06-23
New version of choose.php with bug fixes + more instructions
2010-06-17
I keep my private bookmarks now at Diigo
since Simpy is unfortunately not maintained anymore.
2010-06-10
Small update of choose.php (cleaned up some paths)
2010-06-02
Check DNS entries with a Bash script
2010-05-30
choose.php: ChooSE your search engine
choose.php allows users to choose a preferred search engine before doing the actual search
2010-02-08
New version 2.03 of autoreply_deferentially.rc
2010-01-19
in gedenken
2009-12-28
FreeKEYB-L has been closed.
2009-12-22
This years' Weih Nacht S Karte
Revolution im Reihenhaus. Die Zukunft der Liebe: Ein Plädoyer für die Wiederentdeckung der Doppelmoral.
Von Susanne Gaschke, Die Zeit, Nr. 01/1999.
2009-12-05
Updated netstat.php with improved font size scaling
2009-11-16
Autoreply deferentially or better not at all
2009-11-12
Updated netstat.php to include an RSS feed for alerts
2009-11-07
Updated netstat.php to include timing diagnostics (hover "Online")
2009-10-28
Bad-Behavior URL-based whitelisting bug in 2.0.31
2009-10-27
netstat.php script to show online status of hosts and services
2009-10-11
NoteIt bookmarklet for quickly copying title & URL of a web page
2009-09-15
showmydisks.sh updated; supports Software RAID now
2009-09-14
diskinfo.py and showmydisks.sh
2009-08-03
(Re-)Alpine 2.01 released
2009-06-09
Development of Alpine restarted by Andra¸ "ruskie" Levstik
"Alpine is a fast, [text-only,] easy to use email client that is suitable for both the inexperienced email user as well as for the most demanding of power users." Previously, "Alpine was developed by the Office of UW Technology at the University of Washington."
2009-03-18
Updated and fixed my calendar of cUltuRal events
2009-03-17
Updated and fixed Jean G. Vaucher's MIDI Rhythm generator
2009-03-10
Fixed a bug in my Bash script mail_lookuplist
2009-03-01
Updated the Creative Commons license for my works: Unless explicitly stated otherwise, my work is now licensed under the Creative Commons Attribution-NonCommercial 3.0 Austria License
2009-01-26
Nullen Killen im Multi-Core
2009-01-19
in gedenken
2008-12-21
This years' Weih Nacht S Karte
"The biggest human sex organ is the brain."
2008-12-20
99999 played tracks on last.fm
2008-12-13
The CaRs-L mailing list was closed
after being inactive for some years, anyway.
2008-12-09
The new "Ratty blog" has been started
It follows the old one which was running on pownce.com.
2008-12-06
My "Ratty blog" [http://pownce.com/rattus_rattus/] at pownce.com is being shut down
2008-11-26
DON'T PANIC! birthday parties: no thanks card 2008
2008-11-24
Some brute force stats
2008-10-31
Wordle "Mit Dank an Ursula" (needs Java)
Just another Wordle for those who know it, all others might want to have a lOOk and try one themselves.
2008-10-30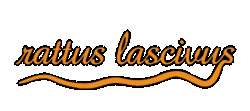 lasciviousTshirts goes on-line
2008-10-12
Essential e-mail acronyms
2008-09-27
Selective sendmail postmaster
Discarding Sendmail's double bounce "postmaster notify" messages caused by bouncing "DSN: return receipt"s and locally unknown users
2008-08-26
ErfurtWiki (ewiki) to DokuWiki Converter
2008-08-24
Taxonomies of the unknown
A compilation with references of some classifications, systematics and other orders of what is not known.
2008-07-31
Slatin Summer is ready to go
2008-07-28
Grep with large pattern files
2008-07-20
Expensive grep: Comparing run times of grep -f
2008-07-14
Published the Bash script mail_lookuplist
A Bash script to "validate" an e-mail address and to look it up in a list
2008-06-29
Published the Bash script postpone
A Bash script to postpone some action for a given time
2008-06-14
My flUxUs pages have been moved to my private home page
I have also updated them here and there. Old links still work but are redirected to the new location.
2008-05-24
Slatin Summer sketchy shoe designs
2008-05-22
Regexes to filter automated e-mail responses
2008-05-12
Linksys WUSB54G WPA on Ubuntu 8.04
2008-04-28
eMail highlighting for GeSHi (within DokuWiki)
2008-04-13
Colorize my logs (a simple bash+sed script)
2008-01-19
Nichts Neues: Der Überwachungsstaat
Update 2016: Link removed. The site was up until 2015 (provided by archive.org).
2007-12-28
Die Weih Nacht S Karte 2007
2007-11-24
"Proporz": birthday parties: no thanks-Karte 2007
2007-11-04
I've started the SysAdmin'ish Blog, trying to return some stuff I learned from others.
2007-10-28
I've started to redo my section System administration. (Old links should stay valid.)
2007-08-07
Andreas' Checklist Generator
A simple, generic checklist generator suitable for quick TODO lists, packing lists, and such.
2007-07-08

A new photo: "Steps To Escape"
(Note: Actually, I do not plan to use Flickr for my photos. The pictures there are for testing, mainly.)
2007-05-06
Lots of new contradicTshirts
2007-04-20
We have started contradicTshirts, our T-shirt shop/blog
2007-04-15
Two (!) Italian (!) ladies were kind enough to approve my extra-light Tiramisu recipe.
The webpage now features a real-life photo of MiseratU.
2007-04-03
Ratta is presenting her black gallery
2007-03-11
a thousands words of silence
2007-02-03
Verbloggtnoamal: Hauptsache Widerstand. Woran wir nicht vorbeikönnen.
2007-01-12
My old address schamanek@gmx.net has been deleted.
See my Contact page for alternatives.
2007-01-11


Jetzt erhältlich: Der Aufdeckungsstempel
2006-12-16
Neuauflage meiner No-birthday parties-Postkarte von 2001
2006-11-28
Ein neues dokumentiert schamanek.net's Provider-Wechsel
Update 2007: The weblog at http://blog.schamanek.com has been archived and removed.
2006-11-24
This years' card of birthday parties: no thanks
2006-11-18


Now available: The Discovery Stamp.
2006-11-13
A usage example for the DDST: toilet paper front sides
2006-11-04
Ein neues flUxUs Bild: Schwarz-Weiß-Malerei
2006-10-08
A new flUxUs gallery For Juliet Ernst
2006-10-01
Ein Preis für Humanökologie.
2006-09-04
A new flUxUs picture, 'cause it's been so long
2006-08-13
Friends and me started verbloggtnoamal
2006-07-26
Hear my laughter to the end of the world.
2006-07-05
My friend Ratta has been introduced at rattus rattus' blog
2006-06-10
Code for a simple comment captcha for Gallery 1.5.x
2006-05-26


Now available: The De-Dichotomy Stamp.
See also the German De-Dichotomie-Stempel and the gallery.
2006-05-20
I have created sort of an index of my applied liar's paradox weblog.
Let me know if you think this is of any use.
2006-05-04
First version of the German De-Dichotomie-Stempel.
2006-04-10
A list of cUltuRal events.
2006-04-09
A number of mailing lists have been closed down.
I have also removed all links to the overview.
2006-03-13
A new weblog: Amaryllis' Blog.
Do-it-yourself sunshine, an Amaryllis a day.
2006-03-06
A new recipe: How to make good coffee.
2006-02-23
New and updated Checklists For Computer Maintenance
2006-02-10
A new picture "Reject it"; und eine alte Versicherung (PDF)
2006-02-02
Some new recipes: e.g. Rüblikuacha.
2006-01-15
I recently started a weblog: rattus rattus' blog
2006-01-02
A flUxUs instruction: Take A Mirror
2005-12-23
This years' Weih Nacht S Karte
2005-12-21
CaRs-L-Artikel zur neuen Version von Pegasus Mail v4.31
Die neue Version behebt auch 2 sicherheitstechnische Probleme.
2005-12-09
Einige kurze Beiträge für die Mailing List cUltuRe-L Veranstaltungstips
Beispielsweise eine Empfehlung für on-line hörbare Live Concerts by National Public Radio.
2005-11-26
New colors for my web pages.
2005-11-17
I have updated my recipe for MiseratU (Tiramisu Light).
The recipe is also available as a [Google Base item] (former link not available anymore since July 2011).
2005-11-04
First version of a Checklist For Computer Installations published
2005-10-23
Updated my list of Frequently Not Answered Questions (FNAQ)
2005-10-03
A whole new section about the flUxUs way of life
including What I Want To Say, a statement about statements, science, life, flUxUs, and everything in between, thankfully dedicated to my friend Karen Kastenhofer
2005-09-21
Updated my definition of System Administration
2005-09-03
Published version 1.0 of "How to set up a c't-Debian-Server On Software-RAID-1"
2005-07-17
Added imprints to all my web pages.
As of July 1, 2005, Austrian law requires nearly all web pages to have imprints.
2005-07-08
My mailing list Hochtouren-L has been moved to Bergtouren-L.
The list of my mailing lists and forums has been updated, too.
2005-06-10
CaRs-L-Artikel zu Backups mit xcopy und Datum.
2005-06-04
I "wrote" a Content Free Web Page / Thinking Space.
Based on ideas by adbusters.org, the famous Last Page Of The Internet, and my present-free zone no-birthday card.
2005-06-03
How to set up a c't-Debian-Server On Software-RAID-1
2005-05-28
Neuer Hochtouren-L-Artikel zur Kürzung der Bergtouren-Kurse des USI Wien
2005-05-24
Compiled list of links to Recommended FireFox Extensions
2005-05-13
CaRs-L-Artikel mit Links zu Ergonomie am Computerarbeitsplatz.
2005-04-22
Hochtouren-L-Artikel zur Kürzung des Bergtouren-Programms des USI Wien
2005-04-04
New database of recommended bookmarks (about e.g. fullquotes, and rhythms)
2005-03-19
My webdesign SimpleHome has been approved by Open Web Design (formerly OSWD.org).
2005-03-12
I have added this list of news to my website.
2005-03-12
I wrote a CaRs-L article about Online Radios.
---